I get asked these questions all the time, so I figured I'd create this post to help answer some of the most common questions regarding Pinterest!
What is Pinterest all about?
Pinterest is a search engine and social media platform that enables users to find images relevant to their categories of interest. In other words, Pinterest is a visual search engine and bookmarking site where you can find ideas, information or shop for products and services.
How Pinterest works for business?
Pinterest is a social media platform, but it is also a search engine. This means as a business you can show up in search results in the same way as you would show up on Google. Keep in mind that Pinterest is a visual search engine which means instead of creating text based posts you'll be creating pins that are images linking to your website or business. Check out this video to get how Pinterest works for business in more details.
Can Pinterest make you money?
Pinterest in and of itself does not offer ways for you to directly monetize your account on it. However, using Pinterest you can direct traffic (or visitors) to your offers and make money through various methods. You can check out this video for more details on how to make money with Pinterest.
Are Pinterest images free or are they subject to copyright?
Most Pinterest images (unless otherwise stated) are not free to use for commercial use. You can save a pin in your account but you should not be creating a copy of that to send traffic elsewhere. In order to avoid copyright issues, avoid copying or using pins posted by others as they are considered as intellectual property of the owner that posted them.
Are Pinterest boards public?
Pinterest boards can be public and private, based on the settings you choose while creating an account. In this video I explain how to turn your board into a private one.
What Pinterest boards should I make?
If you use Pinterest for business, then your boards should represent the categories or topics your business is in. For example, if you have a photography business, your boards can be, "Portrait Photography", "Wedding Photography", "Couples Photography", etc. The boards on Pinterest help your ideal customers find you and your account, which means the more strategic you are about setting up your boards, the better your profile will perform.
Q. What is the ideal size for a pin?
I stick to 1000*1500 px which is the size that Pinterest recommends. However, most graphic design tools offer a standard (free) Pinterest design in 2:3 ratio that is also completely fine. In the past, taller pins did well, but now Pinterest tends to cut them off in the mobile feed.
Q. How often should you create a new pin?
My recommendation would be to create 3–5 new pins every day. However, with a million things to do that's not always possible. In this case I would schedule to create 20-25 pins every weekend and post them out with gaps on Pinterest.
You can do this easily by using the "publish at a later date" option.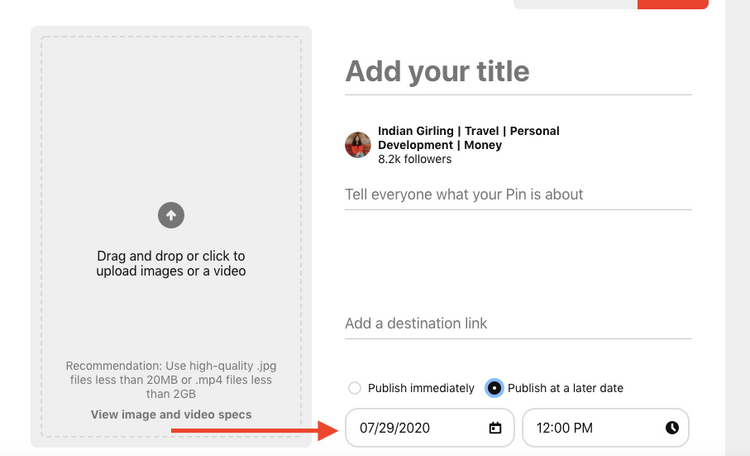 Q. What is the best time to publish a new pin?
Publish your pins at a time when most of your audience is online. As my audience is in the US, I publish pins late at night (for my timezone) that is morning in the audience timezone.
If you use Tailwind, you can fix your time zone as per your audience so it recommends the best schedule for you.
Q. How many pins should you make per blog post?
Pinterest doesn't have a limit on how many pins your account can create or how many you can upload. In theory you can make 100 pins for a well performing blog post and you can make 1 pin for a poorly performing blog post. Of course the timeline would matter as well.
Just for an example, I have 2-3 posts that I make at least 10 new pins every month for because they are evergreen for my audience. And then there are about 20 other that I create only 1 pin each. Not to mention i would also add new pins for new blog posts. If you're looking to learn how to create a custom pinning strategy, I cover this in a lot of detail in my program, Pinfluencer Collective.
What is the difference between a pin and a repin?
A pin is an image that is uploaded on Pinterest. A repin is when the same image is saved by someone else to their account.
Can I share the same link over and over again?
In principle, yes. However, in practice this may differ a lot. Pinterest considers too many duplicate pins a "spam" and may end up blocking your account. As long as you create new graphics for the same URL or link, you'll be fine. Avoid using the same graphic over and over again since that is considered spam.
How does the Pinterest algorithm work?
The Pinterest algorithm is a complicated and ever-changing beast. At the core of it, Pinterest is a search engine much like Google or Youtube, but the way it works can be different as it doesn't rely on the same signals. In short, Pinterest looks at your content (pins), your search ranking (how well you optimise for SEO and show up on search) and the overall quality of your account when deciding to showcase your pins on the search feed.
Where does Pinterest save my images?
Your images are saved on your profile as well as on your boards. You can head to the "saved" section to look for a specific pin you may have saved in the past.
How can Pinterest help in growing your business?
Pinterest is one of the (if not only) social media platform where organic reach is STILL possible. This means, if you use it well, you can consistently bring in new visitors, new leads and new sales to your business. With that said, if your business is hyper-local, offline and/or targets a country where Pinterest isn't actively used, then Pinterest will not be the best platform to grow your business.
Are Pinterest searches public?
No. The only person who has access to your past search data is you (the profile owner).
Can Pinterest users see who views your pins or account?
Pinterest does provide some analytics data but it doesn't directly tell you who clicked on a pin or didn't. You do however have access to summarised data if you have a business account on Pinterest at the pin and account level.