If you're looking for the cheapest way to start a blog, you're at the right place!
With this step by step guide to start a cheap blog, you can get going in under $10/mo!
I'm sure to start a future online business, you can spare that much.
This guide is divided into six sections to make things logical for you:
Section 1: Introduction & Setup
1.1 Defining Niche, Sub-Niche & Brand Name
The very first step in your journey towards launching a blog is to figure out the following-
Niche– The broad sector of content you will operate in. This could be travel, food, parenting, personal finance, fashion, lifestyle, etc.
Sub-niche– The sub-category of the niche you will operate in. The more detailed information your blog provides in a sub-niche the better. For example if you want to start a travel blog you can think of- vegan travel, family adventure travel, sustainable travel, van life travel, digital nomadism, etc.
Name– The name of your blog or your domain name and your social media channels. Be sure to research thoroughly first as to what is available on as many platforms as possible.
Let's do a deep-dive into some of the technical basics.
A "domain" is essentially the digital address of your website. I personally think a .COM domain is the easiest and best way to begin especially if you plan to have a worldwide audience, which I guess if you aim to write about anything under the sun, you will.
However, if you find a domain that ends with .NET, .BLOG or any country specific domain, that is also okay. Most people will refer and remember your website with the name anyway.
Picking a blog name can be the hardest thing ever, as when you think about it many names have already been done to death. If you wish to start a travel blog, words such as 'nomadic, adventurous, wanderer, wanderlust, backpacker, world traveler, boho, vagabond, blond, expat, foreign' have already thousands, if not millions of iterations.
Find something unique and memorable that not only explains what your blog is about but also doesn't pigeon hole you. It's completely alright to go from a big blog covering a wide variety of topics to a narrow one. Doing the opposite however is an uphill battle. If you pick a name such as "Musings of a Teenage Girl", what happens when you're not one?
Many people love to pick a blog name after their own name, but in my opinion, I know like 2 blogs which are famous just by their actual full names. You have to realise that to build a global audience, if your name has roots in Hindi or Italian or French, unless you plan to write your blog only in that language, that is the only time it makes sense to pick such a name.
Unless you have a famous second name that the world identifies with, or you're already famous, I'd say do not pick your own name. You could however definitely include a part of your name with something catchy and easy to remember. The only exception to this tip is if you plan to start your own brand/consulting agency and would prefer to use your name for credibility.
It also helps to have an easy blog name to remember. If you tell me to read a blog named- 'Extravagant Vagabond Adventures', I can promise you I will forget this 100% by the next day. You want to create something that is you, easy and catchy to remember and that is broad enough to experiment with your niche.
Let's say you want to start a travel blog like me. Here's my sample list of recommendations:
The Soul Traveller
Foodie Travels
Vegan Adventures
Living Travel
Girl Goes Nomadic
Van Vibes
Chasing Sunsets
Corporate Traveler
Find more names here: https://www.nameboy.com/
1.2 Getting a Host
If you're looking to test the waters for cheap but still have excellent service, then you need to self-host using Hostgator.
You can buy a domain and a hosting plan on HostGator, install wordpress.org (industry standard) and go full-steam ahead.
Here's how you can do this:
Step 1: Choose a plan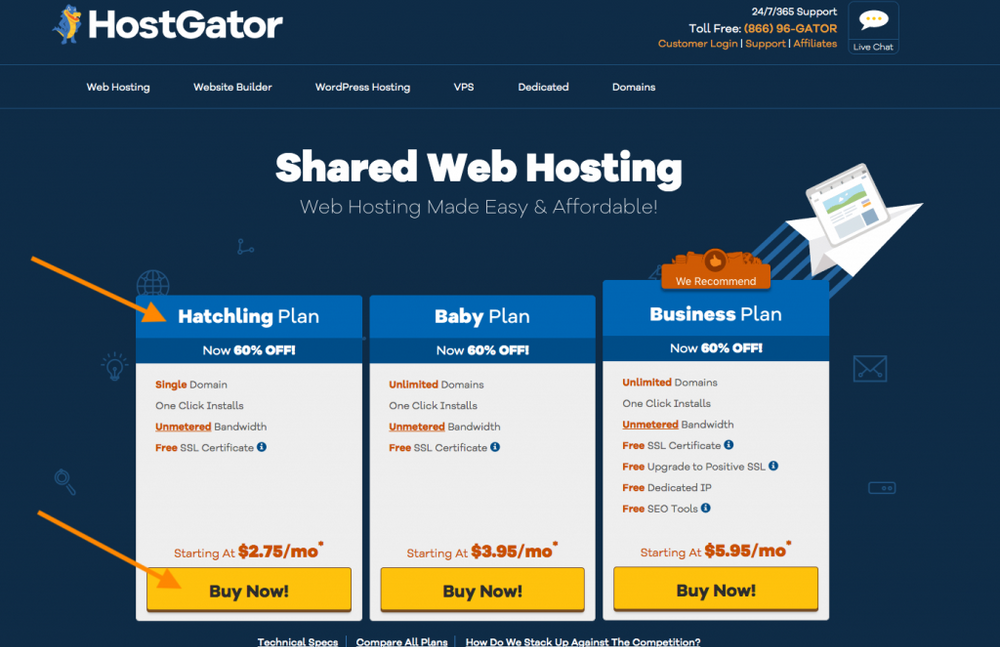 I'd suggest go with the "Hatchling" plan if you are new to the world of blogging and do not want to spend a lot on getting a web host.
>>>You can use my link here to get up to 55% OFF on your hosting plan.
Step 2: Register a new domain or transfer an existing one.
In my own experience, it is way easier if you buy the domain also at your host, rather than having to transfer at a later stage.
I bought mine at WordPress as I hosted my website with them for the first one year, and I really wish at this point I'd gone the Host+ Domain route to avoid having to change all my name server details, making redirects and files while migrating hosts.

Step 3: Finally, review your plan and go get em!
You've made it through the basic steps. Now all that awaits between you and your new online business, is finalising your payment details and plan. I recommend getting the 36 months plan as that way you lock in the cheapest price. If you add more websites you can always upgrade to a more expensive option, but renewals can be EXPENSIVE.

Make sure you lock in the cheapest price, when you think of the lifecycle of a blog, 36 months is very reasonable!
1.3 Getting a Theme
While you can totally get a free theme available to you with whichever platform you go for above, I highly recommend investing in a good theme from the start.
Even if you write the best content in the world but your blog is hard to navigate or just downright ugly, no one will spend time reading it.
You got to make sure you create something you are proud of and is great to look at. Not all of us have the luxury of knowing how to design from scratch or have the money to hire a custom designer to create a special theme for you.
Thankfully, most purchased themes come with either a Live Preview option or a Visual Composer which helps you see changes in real-time and implement them with one click.
For the beginning, you can purchase a basic theme which you can modify in hundreds if not thousands of different ways to create your own signature look.
You do not have to use the same theme, but can rather spend time browsing and checking out what fits your budget and blog aesthetics best.
1.4 Install Free Plugins
I am going to assume that you are using WordPress as your CMS (Content Management System). It's the easiest and most customizable platform, that you can download for free from your host dashboard.
These are the free WordPress plugins that I use the most and recommend to anyone starting a blog.
To add plugins, from your WordPress dashboard, go to Plugins » Add New
The top plugins I recommend are:
Yoast SEO
Classic Editor
Akismet Anti-Spam
W3 Total Cache
Social Pug – Social Share Buttons
Pinterest "Pin It" Button
Thirsty Affiliates
Broken Link Checker
How To Add A Plugin
The easiest way to add a plugin is to go to Plugins » Add New from your WordPress dashboard and search for the plugin you want.
Then it's as easy as clicking 'Install' and then 'Activate.'
You can then fix under the plugin 'settings' to make sure it is customized for your blog.
Tip: Do make sure the plugin is compatible with your WordPress version and theme so as to avoid your site from accidentally displaying errors or crashing.
Section 2: Content & SEO
2.1 Do This Before You Hit Publish
So, I know you're all jumpy and excited and want to start publishing already, but there are a couple of things you need to do right first.
Submit Your Site To Google Search Console
Google's bots crawl websites frequently and then use the information they found while crawling to display those websites in search results. This is essentially how you get visitors from Google.
It is important to submit your website to Google so that the bots will crawl your site.
Follow these steps to make sure your website is Google-crawl-friendly!
To easily connect your blog to Google Search Console, follow these steps.
1. Go to Google Search Console and sign in with your Google account.
2. While logged in, click the red ' ADD PROPERTY' button to add your website.
3. A popup will ask for you website URL, then click the blue 'ADD' button.
4. Next, Click the ' Alternative Method' tab. You will be given a code. Copy the code, and then paste it into your website <head> section, before the <body> section.
If you aren't sure how to do that, you can use the free AddFunc Head & Footer Code Plugin which makes it very easy.
After that is done, you just need to click 'verify' in Google Search console.
Next Step: Connect Your Blog To Google Search Console Using Yoast SEO
1. Having the Yoast plugin installed, from your WordPress dashboard click 'SEO and then 'Search Console.' Here you will be able to connect your website to Google search console.
2. From there, click 'Settings' and then 'Get Google Authorization Code.'
This will then give you a popup window, you will sign in to Google, it will give you a code. Copy the code and paste it into the box, and click the blue button 'Authenticate.'
Your website will now be connected to Google Search Console and Yoast.
The next thing you need to do in order to submit a blog to Google, is you need to enable your sitemap in Yoast.
How To Enable Sitemap In Yoast
1. Within your WordPress dashboard, click 'SEO' and then 'General.'
2. Click on the 'Features' tab, and make sure that XML Sitemaps is set to 'on.' It will look something like this
3. View your XML Sitemap by clicking the 'See the XML Sitemap' link. You may have to click the question mark ( ? ) symbol to see the link.
Submit Sitemap To Google: Final Step
If you have made it this far, it is now finally time to introduce your blog to Google.
This step will show you how to 'Submit Sitemap to Google' which is the final step in this 'Submit URL to Google' tutorial.
Go to Google Search Console and select your website
In the left sidebar, click Sitemaps.
Click the Add New Sitemap button in the top
Enter sitemap_index.xml into the text box that appears
Click Submit
That's all! You have officially told Google to start crawling and indexing your website.
2.2 Pre-Launch Content
Once you have a host, you also get WordPress backend auto-installed.
Essentially, WordPress is a CMS- Content management system that allows you to write, edit, customize your blog posts and your website using free and paid plugins.
Once your domain, platform and theme are set up, all that's really left is for you to write. I think it's good to write 10-20 articles first, make sure you get a second opinion on them and then go ahead and publish them all together.
An empty site looks like there's not a lot of thought put into it. It also doesn't give visitors enough reason to stick around. I'd say write until you become confident that a) people would like to read what you wrote, b) you would like people to read what you wrote. One without the other is not really good formula for success.
Remember, your first few articles are not going to be your best in otherwise long blogging career. But the magic of owning your own website is this thing called editing. You can always go back and update your initial posts, set them to private or even delete them altogether if it no longer appeals to your blog content.
2.3 Learning Search Engine Optimisation (SEO) Basics
Once you have written your first 10-20 articles you want to make sure they are optimized for Google Search.
Think about it. There are billions of blogs out there in the world. You want yours to show up in search results, because put simply, if you cannot be found, well you'll never be read.
This is the one step that you need to REALLY figure out if you want long-term blogging success.
Getting more eyeballs through social media is one thing, but none of those are your own platforms.
You want the maximum amount of people to find you directly via search engines. Now, this will take a year at the very least until you begin to see considerable search engine traffic, but you want to make sure the content you create is search engine friendly.
For this purpose, you need to install-
Yoast SEO plugin, which will tell you how to optimise your content. As a beginner you do not need a paid plugin.
Keysearch, a tool that helps you understand how well you can rank for a particular keyword. You can use the free version but eventually, you will need the paid plugin as you begin to understand SEO better and want to benefit more from it.
HOW TO OPTIMIZE YOUR BLOG POST FOR SEO
If you use the Yoast SEO plugin you will get some prompts that will help you figure out how your on-page SEO is working.
Even then, it doesn't hurt to double-check the following before you hit PUBLISH:
Make sure to select a focus keyword. Free Tool: https://neilpatel.com/ubersuggest/
Add your focus keyword to your blog post title. For example if your keyword is 'Jordan Itinerary' then you can say- The Complete Jordan 5 Day Itinerary Guide.
Add a SEO-friendly URL. No dates and no numbers unless necessary. You can also add modifiers in your URL such as 'guide/review/tool/checklist' so you can show up for more related searches on Google.
Write a post that is at least 1000 words long. Google considers long-form content more in-depth and higher quality than short-form content. You can have a few 500 word blog posts too if they sufficiently cover the topic, but aim for 1000-2000 words if you want your content to rank.
Add LSI keywords. LSI keywords are basically long search queries that can help signal what your post is about. Free tool: https://lsigraph.com
Include your focus keyword in the first 100 words.
Avoid keyword stuffing. Do not add your focus keyword 25 times in your blog post. Instead add variations of the keyword.
Add an 'alt image' tag with your keyword. When you add a featured image you will have to name the image. Make sure to name the image as well as the 'alt image' tag including your chosen keyword.
Include videos, infographics, and any other media. The more diverse your content, the better your post will perform simply because it is more engaging that just plain text.
Keep your paragraphs short and language super easy. Unless your blog focuses on English Literature, write for an average 5th grader language level. Also break down your text into 2-3 sentences per paragraph for easy to scan text.
Additional Reading: https://indiangirling.com/beginner-seo-tips/
Section 3: Social Media Marketing
3.1 Social Media 101
Now you've picked a name, purchased a domain, a platform to host it on, and even published a few great posts. What next?
No amount of amazing content is worth it's while if no one ever finds it. We'll get into SEO and other such blogging jargon at an advanced stage. For the beginning, it's crucial that you work with what you know how to work with. This means that you use the channels where your audience is most likely to find you, follow you and provide feedback.
The social media channels that you would pick would hugely vary of course based on your final sub-niche, but starting with a few places where almost everyone is present such as Facebook, Instagram and Pinterest is highly advisable.
For me, I personally cannot juggle accounts in six platforms, and would not recommend you to do this unless you plan to blog full-time. I'd rather focus my energy on creating content that's high quality and focus on a few social media platforms that I understand how to use best.
I would recommend you to pick a minimum of 2 platforms so that you do not get overwhelmed. If you are in the US, Twitter/Pinterest will be a good combination for you. For people elsewhere, I recommend starting with creating a Facebook Page and a Pinterest business profile.
Additional Reading: https://indiangirling.com/social-media-tips/
3.2 Blogger or Influencer?
In the last few years of the Instagram generation, especially in the field of travel, we have somehow mixed up "bloggers and influencers".
Let me make a few things clear-
A blogger is a person who has a blog and either earns an income while doing it or hopes to get there someday.
An influencer is a person who has reached a certain number of followers popularly on the platform Instagram and may or may not make money from it.
A blogger can also be an influencer and vice-versa.
A blogger owns the platform that she creates content on, an influencer doesn't.
Blogging has been around for over three decades and influencer-ing (if that's a word) has been around for less than a decade.
How to know what you should be?
You want to be a blogger if-
You want to have long term sustainable and recurring income.
You want to create a business and brand out of your website and related social media channels.
You want to inspire people and have followers but you also want to OWN your platform, aka your website.
You want to work with brands but not chase them for your daily bread and butter.
You want to be an influencer if-
You want to go on sponsored free trips and get free hotel stays and goodies.
You want to have hundred thousand followers on Instagram or Youtube and monetise the audience. (Think- #followmeto couple)
You are okay with being broke for extended periods with no regular source of income.
You want to be famous for being famous.
This is oversimplifying the difference but it all comes down to what YOU want. There is no right or wrong way of going about things.
Many bloggers start out as an influencer and then add a blog. Many people start with a blog and then grow an audience on other platforms. I am the latter.
I believe in creating a business out of my OWN platform first, and use social media platforms to build awareness, drive traffic and grow my main business. This also fits me well as I prefer creating written content, and using online and digital marketing tools more than I value creating and editing photos or videos.
This is not necessarily the right approach. If your talents are better suited to being a travel photographer or videographer, then you should definitely consider going social first.
Just remember this, as a blogger you have your own platform, your own email subscribers, your own audience. if Instagram blocks your account, you don't stop making money.
As an influencer on only one platform, you don't own your followers and you definitely do NOT own the platform.
Both are VERY difficult career paths to sustain and create an income from, but growing to 100K monthly page views is cheaper and relatively easier to do as a blogger than to do as an Instagrammer or Youtuber.
So, which one do you want to be?
Section 4: Google Analytics
At the very beginning, it's probably only going to be your friends and family that will read your blog. Be patient and keep promoting your content. How well you wrote something does not matter if no one saw it.
We live in an age of social proof and the more eyeballs your content get, the better your blogging game will eventually get.
Some of my loyal followers often provide me with valuable feedback, appreciation and even criticism which helps me understand my audience so much better.
There are times when I get emails from readers that I cannot in this lifetime hope to answer accurately, but it's truly fascinating how fast people actually can come to love or hate your content, provided your are visible in the right places.
Another drawback of using WordPress for the first one year, is that I could not integrate my account to Google Analytics. I was, for the lack of a better phrase, being cheap and lazy.
Now that I'm not, and have had access to my Google Analytics data, my mind has exploded with the amount of information I can gather on my readers.
Here's a detailed tutorial on how to set up your website with Google Anaytics.
Once you become good at observing trends in this data you really can tailor your content to the right audience. You do not need to be good at math or some kind of data nerd to do this. Anyone can understand this over time, and if you use this well so can you to strengthen and build on your audience continuously.
Section 5: Monetisation
5.1 Affiliate Marketing Platforms
Now comes your favorite part!
After a point, you will undoubtedly begin to think- "hey, how can I eventually generate an income from this blog?"
Even if you don't plan to become a full-time blogger, this question will inevitably cross your mind. It crossed my mind exactly at the beginning of 2018 and after having spent over a quarter of 2018 re-designing and upgrading my blog, I have found a few networks that I totally love.
First of all, an affiliate network is where advertisers gather to partner with people like you (bloggers) who have a platform where their products can sell. In many ways, you become the medium for the advertiser to sell their product or service. An affiliate network is essentially an aggregator that hosts both advertisers and publishers and makes money from a small percentage of the commission that you get from generating sales from your blog.
The reason I like this method, is because this is something that you build for the long-run. Many bloggers would like to explore free press trips or sponsored content, but for the sake of my lifestyle, I like to work on passive things that will continue to yield me profit in the long run and that I do not need to change or update each time I do something different. If you feel that you'd like to explore alternate means of generating income, do go ahead.
With that said, here's an extensive list of my top 3 affiliate networks, which if you have a decent looking blog with at-least a few thousand views a month, you should easily get approval for. If you get rejected, do not be disheartened. Just come back again after your content and audience has significantly grown.
Share A Sale: Part of the AWIN Network, this is one of the most extensive affiliate marketing platforms I have come across. I use the blogging and marketing merchants the most on this platform, and a lot of them are 'pay per lead' instead of 'pay per sale' which is really beneficial for new bloggers.
CJ Commission: I love this platform for the extensive variety of advertisers from pretty much every industry you can think of. I use this platform mostly for travel affiliate partners, and so far I've made the most amount of commision using this platform.
Rakuten Linkshare: Another global and famous platform, for beauty or lifestyle bloggers this is the perfect platform. If you're a US or a UK based blogger, you'll find this platform exceptionally diverse.
Here's a list of 23 easy to get in affiliate programs for travel bloggers.
5.2 Advertising Platforms
This is a step that is conditional to the kind of traffic you end up generating on your blog. Once you cross 250 views a day, I would say you can start preparing to monetize your website based on a variety of ad networks that fit best with your content.
Some networks will outright reject you and some will even ban you for an indefinite period (happens quite often with Google Adsense and happened to me too). However, it is a future income stream you could/should experience.
Even if you only earn money to have one coffee a month from blog advertising, you will be better equipped to deal with ads once your website grows big and having learnt what works best for your blog at the beginning always helps!
Warning: Do not blast your website with a million advertisements as making that extra $0.01 is not worth spoiling the reader's experience and potentially losing them forever. Things such as pop-ups work but are also incredibly annoying. Do use advertising but be smart and strategic about the places you use it on your blog.
Here's the most popular ones for bloggers in my opinion although I only used Adsense on my new domain so I don't crowd my viewers too much. Try your luck, experiment and you'll find out which advertising platform works for you or if it does not at all!
P.S. I have now moved to Mediavine as I crossed 25000 sessions (roughly 30K monthly page views) a few months ago and am now exclusively with them.
Section 6: Creating An Email List
Again, something I wish I started to do from Day 1 itself.
Everything you own via a second platform is not technically yours. Why?
Google keeps changing its ranking algorithm making it impossible for you to be certain about how you will generate traffic or revenues from your blog. Ads served by Google or any other search platform, are therefore in my opinion the most unpredictable long-term revenue source.
Facebook and Instagram are infamous for shutting down brand pages or accounts overnight for sometimes not particularly big reasons. This could happen to you, and then what?
Your email list is the most dedicated, loyal and consistent set of followers you have no matter how many followers you have on social media. The strength of your blog whilst dependent on your social media following, the money you make from your blog will however be highly dependent on the email list that you and you alone own.
People guard their emails fiercely, mostly due to the danger of being spammed. If they subscribe to you because they believe in the content you have to offer, you essentially have a life-long customer that may in future have a much larger value than he or she has today.
For creating an email list and even hosting basic campaigns, head here=> CONVERT KIT
It's free until 500 subscribers, so that's a good benchmark for you to judge the success of your blog and eventually move to a paid subscription once you've crossed the threshold.
I have created multiple mailing lists based on the type of posts people opted in from. You can even create an automatic hello/welcome email for your subscribers, send them regular blog updates, deals or newsletters.
This is the one thing you should set up and start as soon as you launch your blog!
So there you have it, a detailed guide to start a blog for cheap right away!
Don't forget to grab your free printable checklist below:
BLOGGING RESOURCES
1. HostGator
If you're looking to start a blog for cheap with excellent features, it doesn't get better than HostGator. With plans starting from $2.75 per month you have nothing to lose! If you use my link you can get up to 55% OFF on your total plan. The code is automatically added at checkout. So what are you waiting for?
2. Tailwind– Pinterest and Instagram scheduling tool. I literally cannot imagine dealing with these two platforms without the automation I get from Tailwind.
Discounted Link: Get 2 Free Months of Tailwind Plus worth $30
WATCH THE STEP BY STEP BLOGGING TUTORIAL ON YOUTUBE: